News
New AquaFast Large Diameter Specified for A14 Road Improvement Scheme
Posted on 09th May 2018
Viking Johnson has supplied AquaFast in a variety of sizes including the new larger 355mm size for phase one of the Highways England A14 Cambridge to Huntingdon improvement scheme.
As part of the £1.5billion project to upgrade the A14 between Cambridge and Huntingdon, Anglian Water @one Alliance are on site carrying out diversions of 22 Anglian Water assets to facilitate the new carriageway being constructed by the A14 Integrated Delivery Team (IDT) on behalf of Highways England.
It is necessary to decommission a number of existing potable water and foul water pipelines which the new carriageway will be built over and put in place over 22km of new pipelines to ensure Anglian Water can continue to provide services to its customers in the local area well into the 21st century.

Anglian Water @one Alliance are using Viking Johnson products to carry out connections between pipeline sections and also to existing in-service pipelines on Anglian water's network. The A14 scheme has provided the opportunity to use Viking Johnson's new 355mm large diameter AquaFast couplings to join together PE pipe sections of over 1km long and also to connect to existing pipelines on the Anglian Water network.
AquaFast Large Diameter is a simple fit and forget installation not only designed without the need for an internal liner where one fitting can meet multiple SDRs, but also designed with a minimum number of bolts and eliminates the need for any expensive trench equipment.
Dr Tim Daly, Site Engineer for Anglian Water @one Alliance, and his team, have been pleased with how speedily the product can be fitted. The team found it easy to handle and to bolt up on site and also noted that the large sleeve was a real positive as it allows extra room to position and manoeuvre AquaFast onto the pipe.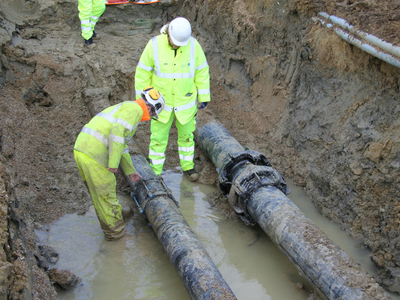 Tim Daly added –
"The Viking Johnson AquaFast product is very good and was very well received by site operatives who found it very easy to install."
Jordan Pomfrey, site operative working for @one Alliance commented about how his job has been made much easier:
"After the pipe preparation, you only need 15 to 20 minutes to put it on and bolt it up. It's ideal to be honest because sometimes you can spend all day trying to make pipes fit - now it's easy, very easy and efficient to use."