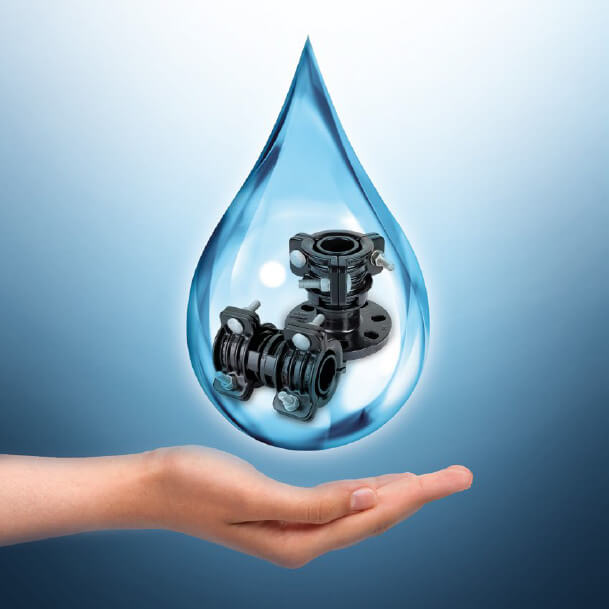 AquaShield® - DN90 - Unique Fittings for Barrier Pipe Connections
There has been a demand for barrier pipe and the connections required between pipework to protect water supplies for households and businesses from possible contamination.
However, up until now a key unsolved client issue has been that no independently certified solution for joining pipe systems from different manufacturers is available.
And although connections can be made by electrofusion this often involves heavy and expensive equipment and trained operators.
This is where AquaShield® can help.
See Our Product Range
---
Brownfield Sites
Brownfield sites gained political significance after the UK government set a national target in February 1998 to ensure 60 per cent of all new housing developments were to be built on brownfield land. This land had been previously developed for industrial or commercial purposes and may have also been contaminated owing to its prior use.
Brownfield development is preferable to building on the green belt and has been reinforced as established government planning policy in subsequent years especially with the growing demand to encourage and support sustainable solutions.
---
AquaShield® is a non-permeable universal fitting, available as a coupling or a flange adaptor to be used on new installations and repairs to connect different barrier pipe systems reliably.
These fittings prevent contaminants entering water networks by sealing the barrier pipe from within while keeping the outer layer of the barrier pipe intact. It can also be used as a transition to a standard PE water network.
AquaShield® is rated to 16 bar working pressure and has a unique gripping mechanism offering WIS 4-24-01 type-1 end load restraint which means the pipe will fail before the fitting.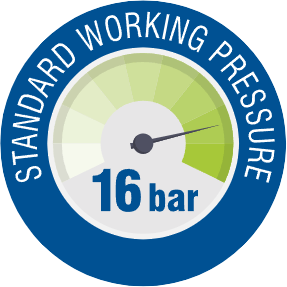 AquaShield® Universal Fitting Examples for Barrier Pipes

Coupling - Puriton to Puriton

Coupling - Protecta-Line to Puriton

Coupling - SLA to PE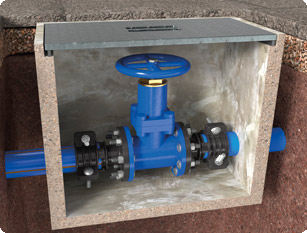 Flange Adaptors - Protecta-Line and PE connection
---
Unique Gripping Technology
AquaShield® forms a leak-tight seal without the need for a gasket simply by torquing up the bolts. The spigot profile design ensures a firm and secure connection is made from inside the pipe.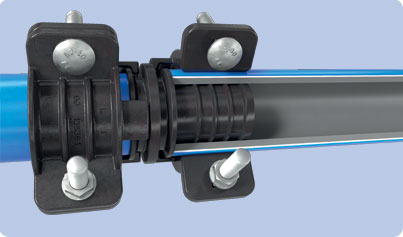 1. Loosen bolts slightly and slide pipe on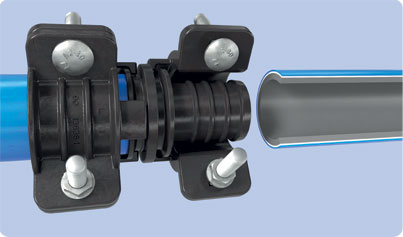 2. Push pipe on to spigot and check is visible in indicator window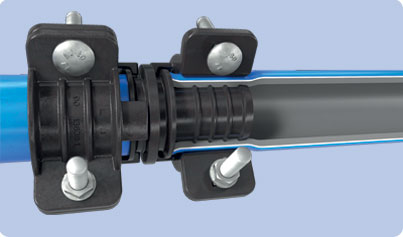 3. Tighten bolts sequentially and incrementally
Couplings & Flange Adaptors
AquaShield® is simple to install and comes preassembled with captive and reversible stainless steel bolts, which makes it quick and easy to slide onto the pipe and tighten up with only a single spanner or a wrench. There is no requirement for pipe surface preparation and no need to wrap after installation.
Fittings have a 50 year design life expectancy and have been independently tested and approved to BS 8561:2021 and certified by WRc and RINA for permeation against contaminants as per BS 8588:2017 (section 7.7).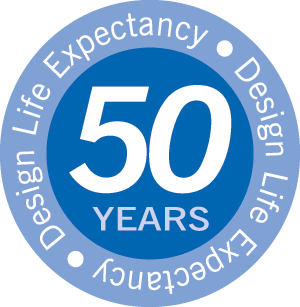 Long life Protection - 50 year design life expectancy is assured through accelerated ageing tests that simulates the life cycle of the product.

Fully restrained, Type-1 fitting designed to meet the performance requirements of BS 8561:2021

Universal fitting that interconnects all major barrier pipe brands including Protecta-Line, Puriton, SLA and PE 100

Visual indicator for correct installation

Stainless steel nuts and bolts coated with dry film lubricant, which provides long term corrosion protection

No secondary re-torque necessary

As with all Viking Johnson products, AquaShield® utilises Rilsan: a bio coating made from castor oil which is highly protective and environmentally sustainable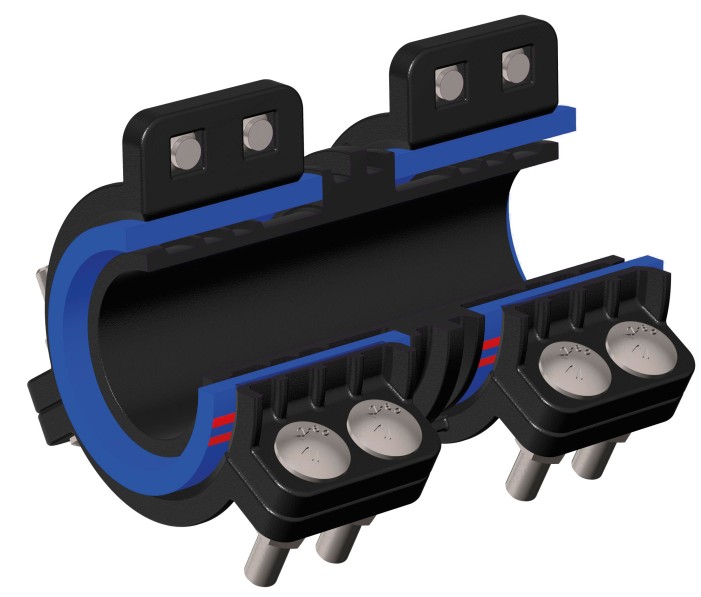 Stainless steel nuts and bolts coated with dry film lubricant, which provides long term corrosion protection
---
AquaShield® Product Range