Product Coatings
Coatings
Along with build quality, the longevity and reliability of couplings and other pipe fittings is highly dependent on the type and quality of the coating used. However, applying coatings to pipe fittings is not just about preventing corrosion, but can affect the evenness of flow through the pipe and the need to prevent contamination of pipe contents ((e.g. foodstuffs or drinking water).
Achieving this high quality, high performance finish requires careful preparation and a controlled environment.
Shot Blasting
Couplings and other pipe fittings are dismantled and all component parts exposed to full shot blasting to provide an optimum cleaned surface for complete coating adhesion.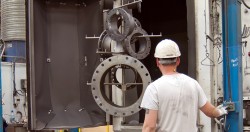 Product Priming
A dedicated booth ensures complete priming of components, prior to Rilsan® coating, ensuring absolute coverage and adhesion.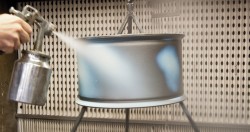 Indexing Oven
A 13 table indexing oven which provides a controlled temperature to heat components to support accurate coating applications across a wide variety of part geometry.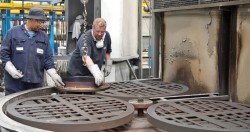 Rilsan Nylon Coating
Rilsan® powder coatings have been used in the water industry since 1967. It is a unique, high performance polyamide which provides a high degree of corrosion protection for metal parts whilst being compliant with the most demanding drinking water regulations.

Manufactured from a renewable raw material (Castor Oil) (from plant origin Ricinus Communis), a Rilsan® finish also provides a smooth surface for optimum flow.
Viking Johnson adds a Rilsan® coating to the majority of couplings and other product lines so that they will both meet their designated design life and ensure the preservation of drinking water quality.