Manufacturing Prowess
Enhanced Product Integrity & Manufacturing Excellence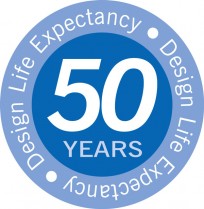 Viking Johnson products have a design life of 50 years and form a crucial part of treatment, distribution and waste networks. To ensure the future integrity of a pipeline and minimise the cost of future pipe repair, it is vitally important that every coupling, adaptor or joint is structurally sound and dimensionally stable. Most Viking Johnson products are manufactured in the UK, on a 14 acre manufacturing facility in Hitchin, by a skilled and experienced workforce. To produce a comprehensive range of 7,000 product lines, from raw materials through fabrication, coating and finishing, every manufacturing step is carefully considered.
Flash Butt Welding

Using a dedicated large diameter coupling as an example, how it is welded and formed can affect the strength, longevity and accuracy of tolerances – the creation of a structurally sound and dimensionally stable product. Viking Johnson is one of the few manufacturers around the world that utilises Flash Butt Welding, for joining sleeves and rings together, to ensure that the product will stand the test of time, helping to reduce the need for pipe repairs.
This technique forms a seamless joint between two metal surfaces and this process has many advantages over arc welding. Both processes are resistance welds (an electric current is used to create the weld) but Flash Butt Welding delivers a consistent, quality weld, offering the best solution with regard to weld penetration and cleanliness of the interfaces and is free of oxides. A Flash Butt Weld is described as a 'solid state weld' as internal defect rates are low. Even where Flash Butt Welding is not feasible, Viking Johnson utilise Submerged Arc Welding which offers higher deposit rates, does not require gases and, most importantly, the bright arc light is not visible to the operator.
Cold Expansion
A theoretically sound weld is not sufficient and Viking Johnson (in line with AWWA C219 standards) goes a step further by cold expanding all welded sections. This not only tests the integrity of the weld but also:
100% tests the metal in the section
Ensures that the section is circular and repeatedly so
Increases the strength of the piece through work hardening
Viking Johnson's drive for product integrity not only removes the risk of product/performance variation by investing in optimal capital equipment for a single process step but looks at the wider product integrity to exceed expectations.
Gasket Sealing
Regardless of whether a coupling is dedicated or wide tolerance or how it grips a pipe, the seal is generally from the compression of an annular gasket. The more dimensionally stable the rings, the more repeatable the quality the more consistent the compression of the gasket becomes. The benefit to the customer is minimising the possibility of leakage, resulting in product loss, environmental damage and pipe repair costs.