AquaFast Large Diameter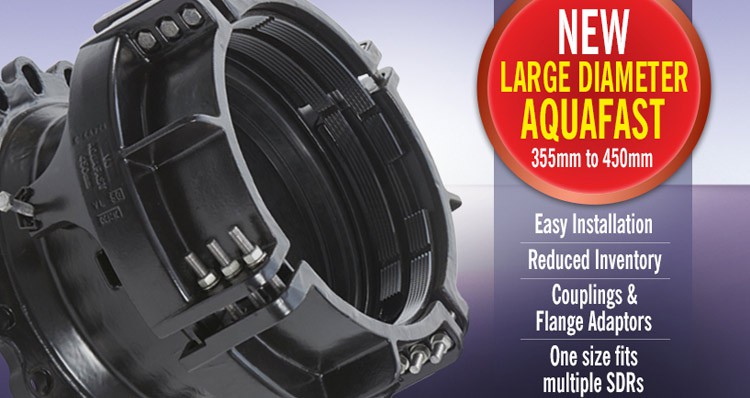 A real time saver for polyethelene pipe connections
Simple to Install
AquaFast Large Diameter is quick and easy to install providing an alternative solution to electrofusion and butt fusion for all weather and trench conditions. It is a simple fit and forget installation designed with the minimum number of bolts and without the need for an internal liner or expensive trench equipment.
Reduced Stock Holding
And now just 10 sizes will cover a range of multiple SDR's offering a significant reduction in traditional stockholding and allowing distributors and water utilities opportunity to have stock to cover all eventualities with off-the-shelf availability.
Innovative Design ideal for Oval Pipes
Viking Johnson has built in a high tolerance for AquaFast to fit with oval pipes and negating the need to utilise expensive and time consuming re-rounding tools.
Resists Pull-out
Improved gripping mechanism offers end load restraint, resisting pipe pull out, allowing the coupling and flange adaptor to be suitable for use in climatic regions where temperatures range from -20°C up to 60°C. AquaFast has been designed to meet the performance requirements of EN 12842, WIS 4-24-01 Type 2 and ISO 17855 (supersedes ISO 14236.2)
Applications

AquaFast Large Diameter Product Range