QuickFit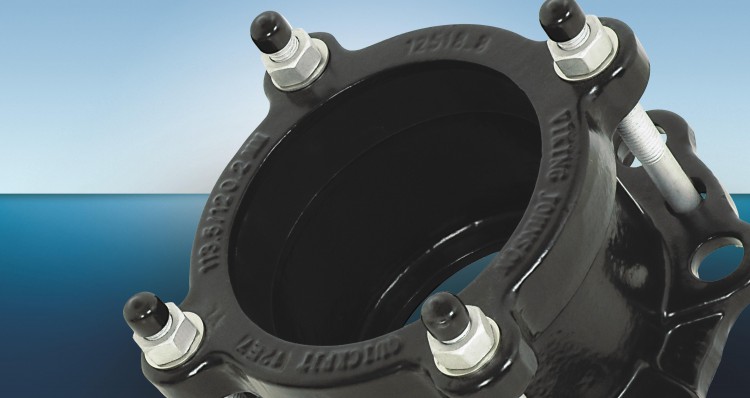 Dedicated Couplings & Flange Adaptors
The QuickFit coupling range is designed to connect plain ended pipes with similar outside diameters. The full range includes couplings and flange adaptors to suit pipes with nominal sizes between DN50 (2") and DN300 (12"). One fitting can accommodate PVC, coated and uncoated steel pipe and ductile iron pipe as well.
New Lay & High Pressure Applications
The QuickFit range is ideal for new lay schemes as the fittings are preassembled with close tolerance to allow for quick installation. They are also suitable for high pressure applications – DN50 to DN125 are available up to 46 bar, DN150 to DN300 to 29 bar as standard. Higher pressures are available as fabricated specials.
Close Tolerance
QuickFit is a dedicated product offering a narrow toleranceon pipe outside diameter.
Transferring the End Load
QuickFit flange adaptors are not end load-bearing products and in the event that the application requires restraining, tie rods are required to transfer the end load forces to an anchor flange on the pipe. The design of QuickFit flange adaptors is such that there is sufficient clearance to allow the tie rods to pass over the end ring without the need for notching. This means that one product can be offered for both flexible and tied configurations, thus reducing stock holding.
Removable Locating Plugs
QuickFit couplings are available with removable locating plugs, to prevent coupling creep on above ground pipelines caused by repeated pipe movement from temperature variation, continuous vibrations and movement. The removable locating plug (optional) ensures the coupling can slide fully over the pipe ends for quick and simple installation. Once installed they engage between the pipe ends to prevent the coupling moving beyond fixed limits.

Applications



QuickFit Product Range