News
AquaFast Large Diameter Secures important Infrastructure Contracts
Posted on 27th Feb 2018
New AquaFast Large Diameter range, launched in autumn 2017 continues to generate success stories, with PE being the material of choice on pipeline installations and repair.
The extended AquaFast range 355 – 450mm has been positively received where the contractor only has to identify PE pipe nominal size to select the correct fitting, as AquaFast is designed without the need for an internal liner and one fitting meets multiple SDRs.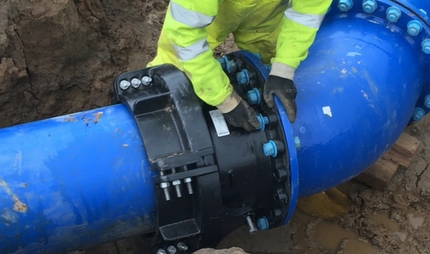 The Viking Johnson AquaFast range extension not only delivers a simple fit and forget installation, but also is available within short lead times enabling time critical projects to be completed as scheduled.
Viking Johnson recently supplied the products to prestigious projects such as Selby By-pass and A14 Road Improvement Scheme in the UK amongst others.

Commenting on the Selby By-pass project, Stuart Eaton – Site Agent, for Morrison stated.
"AquaFast was quick and easy to install, even in adverse weather conditions and does not require a support liner, ensuring the installation only takes about 20 minutes".