News
Viking Johnson Support Al-Mutawaa Technical Seminar
Posted on 01st Oct 2019
Viking Johnson supported a Technical Seminar; organised by Al-Mutawaa, their in-country channel partner during September in Oman.
More than 80 senior engineers, consultants, contractors and end customers attended the event. Josef Danek (VJ Regional Sales Manager) provided an overview on Viking Johnson after which Graham Tate (VJ Technical Support Manager) gave a technical presentation with the view to educating decision makers on what to look for when approving coupling suppliers.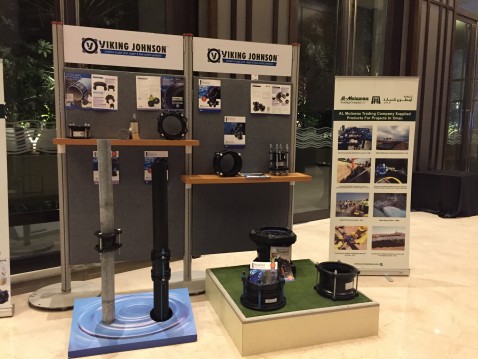 Key topics covered included an explanation on design parameters as set out in AWWA C219 for the metal sections and the need to ensure the geometry / strength of end rings was sufficient to resist deflection. There was also a segment on "What Makes a Good Gasket", where the various tests in BS EN681-1 (standard for elastomeric gaskets) were presented with the view to educating attendees on why this standard is critical to coupling performance and long term sealing.
In addition, the cold expansion method of manufacture, as used by VJ, was explained and how this negates the need for hydrostatic pressure testing (often asked in tenders).
The seminar ended with a section on PE pipe and the characteristics to be considered in coupling / pipeline design.