MaxiFit Large Diameter Adaptor
MaxiFit Large Diameter Adaptor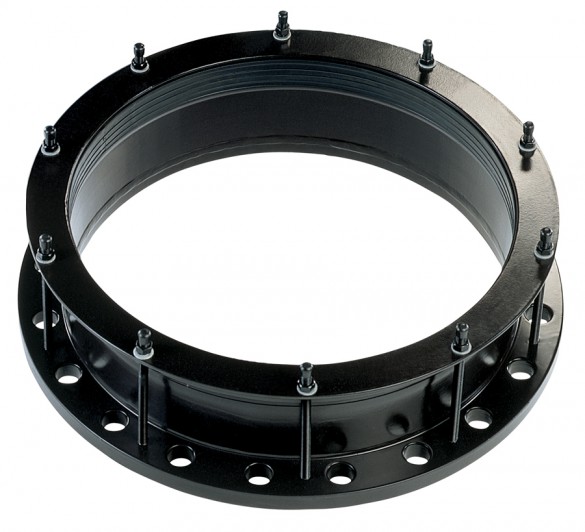 Design life expectancy of 50 years, established by rigorous 'Accelerated Age Testing' which subjects product to working pressure at 80°C for 1000 hours
Wide tolerances permit lower stock holding
Sizes from DN350 to DN 600
All models accommodate angularity between pipes which allows for normal pipeline movement caused by ground settlement. Couplings and reducing couplings allowing for 6° total angular deflection (3° total on the flange adaptors)
A rigorous bolt torque test is completed to confirm that the bolt, end ring and adaptor bosy are capable of withstanding bolt over-tightening to 1.5 times maximum recommended torque

*Due to the flexible nature of the plastic pipes, a close fit Stainless Steel internal support liner is required when PE Pipe or thin walled PVC is used to make a repair to prevent excessive pipe deformation which can occur when a coupling or flange adaptor is installed.
Pipe Materials












Applications


1

Simple to Fit

All Large Diameter MaxiFit, MaxiStep & MaxiDaptor products (DN350- DN600) have a long sleeve length as standard; this is a major benefit to the installer, allowing for greater cutting tolerances and a greater pipe insertion depth - sealing beyond corrosion damaged pipe ends to create a safe and permanent repair.
MaxiFit Repair Brochure

Mechanical Pipe Repair Technology
MaxiFit Wide Tolerance Brochure

Mechanical Pipe Fitting Technology
Viking Johnson Product Directory

Viking Johnson's full product catalogue.
Fitting Instruction
MaxiFit MaxiDaptor Installation Instructions
Download