FlexCheck Valve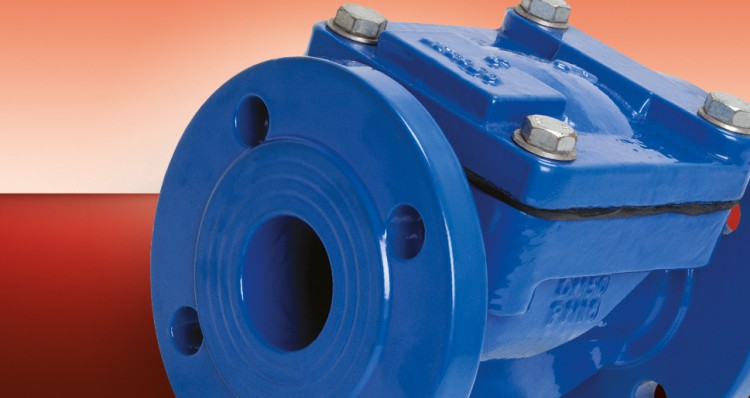 Perfect Solution for Water Hammer.
Its simple, yet ingenious, design features a precision moulded fully-encapsulated steel disc, incorporating nylon reinforcement in the flex hinge. The 'O' ring profile seat face ensures a bubble-tight shut-off, preventing back flow at high and low working pressures. The seating surface is at a 45 degree angle, moderating disc travel and permitting optimum flow rates. The disc's resulting 35 degree stroke is less than half the typical 80 or 90 degrees of a traditional swing check valve. Combine this with its flexible action and this results in significantly reduced valve closing time, flow reversal and both slam and 'water hammer' effects. All this enables installations in far more varied applications than traditional swing check valves. Close coupling to pumps, tees, other valves or accessories is also not a problem for this versatile product.
Water & Wastewater projects
Developed primarily for use in water and wastewater applications, the FlexCheck valve is engineered to deliver dependable, maintenance-free performance over extended periods. Manufactured from durable ductile iron, the unit comprises only three parts: body, bonnet and disc. The absence of moving parts minimises the risk of clogging and maximises operational reliability. Standard features include 100% full-flow area and an epoxylined interior. A rubber-lined version is also available, ideal for the conveyance of abrasive or corrosive fluids. FlexCheck is suitable for installation in horizontal or vertical pipes (flow must be upwards in vertical installations). Its in-built durability is demonstrated through an independent rigorous 1,000,000 continuous cycle test. FlexCheck is supplied drilled and tapped for installation of the optional back-flushing device, commonly used for priming, backflushing, draining and system testing. The FlexCheck is the perfect solution to noise, water hammer and high maintenance.
Applications


FlexCheck Valve Product Range