Eccentric Plug Valve
Flow Control & Isolation Solved
Eccentric Plug Valves can be used for a wide range of flow control and isolation applications including clean and dirty water, sewage, sludge and slurries, air and other services. Available with EPDM, Nitrile, Neoprene and Fluroelastomer Rubber encapsulated plugs. The Eccentric Plug Valve can be used to isolate and regulate any of these services bi-directionally.
Quality Construction
Manufactured in cast iron, using high pressure moulding techniques for consistent quality and precision, the Eccentric Plug Valve also incorporates a nickel weld deposited seat for corrosion and erosion resistance, specially profiled for low torque and extended seat life. At DN65 epoxy seat only. The Eccentric Plug Valve is trunnion supported and fully encapsulated in an elastomeric polymer. The valve body is fully internally and externally Epoxy coated as standard. A rubber lined option is also available. Offering a high flow capacity with a round port design in sizes up to DN300 (larger sizes have rectangular ports), the Eccentric Plug Valve design ensures that the ductile iron plug rotates away from the seat as soon as movement begins, avoiding scuffing and thereby enhancing life expectancy.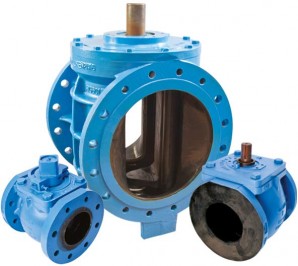 Applications


Eccentric Plug Valve Product Range